IOP2021
The International Organization of Psychophysiology (IOP), with which ASP is affiliated, with the University of Electronic Science and Technology of China (UESTC), will be holding a virtual 20th World Congress of Psychophysiology (IOP2021) this year from September 7 to 11, 2021.
As an affiliated society, members of ASP can join IOP without paying the joining fee; this then allows reduced IOP2021 registration fees.
The call for submissions is currently open.  Please visit the IOP2021 website for further information and important dates.
Welcome everyone to the Australasian Society for Psychophysiology's new website! After a much needed revamp our new website has finally launched.
Our new website has all the same functions and information as the previous website, as well as a few new sections, like the news items and twitter integration. The older sections and the overall look of the website have also been updated to better reflect our Society and its wonderful members, see if you can spot yourself in photos from previous conferences!
Check back here to the News section for additional items and exciting announcements throughout the year, and make sure you head over to our twitter and follow us for more regular updates (@ASocPsy).
On behalf of the executive committee and website design team: we look forward to seeing you at this year's ASP conference!
On the 20th November 2018, we wrapped up ASP2018 down at the Deakin University, Waterfront Campus in Geelong, Australia. The two-day event was highly successful with 3 inspiring talks by Professors Alex Fornito (Monash University), Sharon Naismith (University of Sydney) and Tom Johnstone (Swinburne University), and 44 delegates in attendance both locally and internationally. In line with the society's aim to promote and showcase excellent work by early career researchers, we had 20 highly engaging oral presentations and 6 poster presentations from Honors, HDR and ECR candidates that presented their work in areas such as memory impairment, cervical dystonia and major depressive disorder just to name a few.
Finally, the organizing committee would like to thank our sponsors for this event:
Gold Sponsors – Symbiotic Devices
Silver Sponsors – AIMedical and Medilink
Bronze Sponsor – Neurospec
Award Sponsor – Institute for Physical Activity and Nutrition (IPAN), Deakin University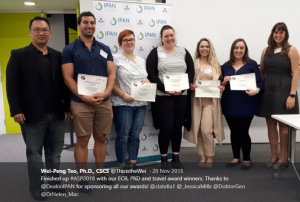 The 29th annual meeting of the Australasian Society for Psychophysiology, ASP2019, will be hosted at the University of Wollongong from November 25‒27, 2019. The conference enables the presentation and discussion of original theory and research in Psychophysiology, along with methodology, instrumentation, standards, and new directions in the field.
ASP's annual meeting is a student-friendly conference that attracts a wide range of expert researchers from psychology, psychiatry, and neuroscience, with a focus on relationships between the brain and behaviour. Students are encouraged to present their research and network with expert researchers as part of their career development.
ASP2019 will feature prizes for the best student presentations, and for the first time, an Early Career Research (ECR) event will be held during the conference. This ECR session will give students an opportunity to discuss career paths and other important topics related to academia with prestigious ECRs and established researchers.
ASP2019 is expected to host a variety of high-profile keynote speakers that are at the frontier of Psychophysiology. Industry sponsors will also provide insightful demonstrations of products that are relevant research in the area. Delegates and sponsors will also have the opportunity to enjoy networking events, including a social poster session with refreshments, and a conference dinner at Level One, Harbourfront.
More information regarding the conference proceedings will be available soon on the new conference website. Registration for ASP2019 will open in June. The ASP executive committee and conference organisers cordially invite you to register and participate in this exciting conference, and look forward to seeing you there.